Back To The Future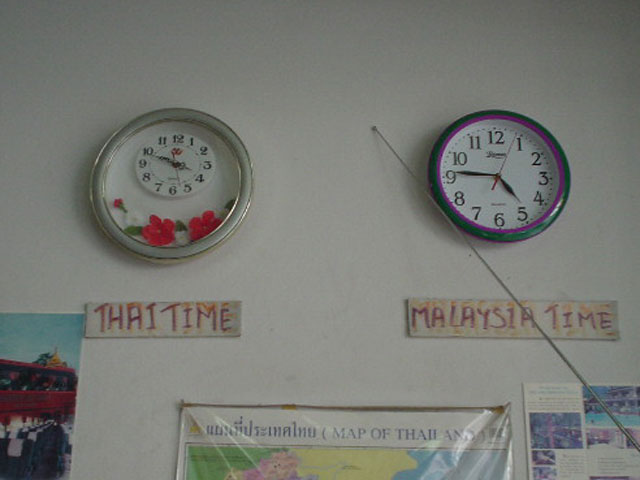 This blog entry about the events of Thursday, February 10, 2005 was originally posted on February 13, 2005.


DAY 481: "So I'll see you in about a month," Noelle said before boarding a shared songthaew that would take her back to Krabi Town so she could get to her morning northbound flight back to Bangkok to continue her travels with with her backpacking hippie mother.
"Yeah, see you on Five Oh Three," I said, remaining on the sidewalk in Ao Nang. My transport southbound to Malaysia wouldn't come for another hour.
Noelle and I parted ways, thus ending her appearance on "The Trinidad Show" — at least until the upcoming "one big night" back in New York City on March 5th (save the date and R.S.V.P.!). It wasn't just the end of my travels with her, but with my travels in Thailand for that matter, for I would end my day on Penang Island, the island off the northwest coast of the continental Malaysia.
A MINIVAN PICKED ME UP and brought me to Krabi Town where we picked up other travelers headed south. To my surprise, it wasn't all backpackers — in fact it was an all-Asian bus. The only other "backpackers" were these two Korean girls who were also making their way all the way across the border.
"In Thailand, 3:15. Malaysia, 4:15," a Thai man that was talking with one of the Korean girls explained. It wasn't until he mentioned it that I realized I'd be driving over a time zone one hour ahead — one hour into the future, if you will — a time zone I hadn't been in since the Philippines. We rode about three hours to the southern Thai city of Hatyai to fill out our immigration forms at a tour office (with time zone clocks just slightly off, picture above), then hopped back onto a different minivan to take us across the border into Malaysia and back to the future.

I HAD DEBATED WHETHER OR NOT to go to Penang in northern Malaysia or to go straight to Kuala Lumpur, due to the new reports of the violence on the Thai/Malaysian border that had been bubbling since October 2004, but from what I saw, everything was A OK. (Leave it to TV news to over-dramatize the events.)
Traveling into Malaysia wasn't just going "back to the future" in a time zone sense, but in a technology sense. Modern Malaysia, from what I was seeing thus far on the three-hour road trip to Penang, boasted rest areas and electronic sensor toll plazas. When the driver turned on the radio, I saw that I was also "back to covers of The Village People's 'Y.M.C.A.'."
The sun set in the west as we journeyed at speeds of over 88 km/hr to the mainland town of Butterworth, where we caught the 15-min. passenger car ferry ride to Penang Island. Immediately I saw how Muslim a country I was in when I saw the people in Muslim attire look off to the distance to see the nighttime Penang skyline. I felt a sort of peace again, like I did on the Muslim island of Zanzibar. As I once said before, it's only the Muslim extremists that are crazy; the rest are peaceful, upstanding people.
It was late when we arrived in the backpacker area of Penang's Little India district, but conveniently enough we were dropped off by the guesthouse I was looked up in my guidebook, which was conveniently next to a 7-11 and an internet cafe. Mostly everything was closed already — not because it was late, but because of the long Chinese New Year weekend — but that didn't matter because a yummy Halal food street vendor was open nearby. "Back to the future" also meant "back to street meat" for me, a lunchtime favorite during my New York dot-com days.
I had an internet session with a can of Malaysian Kickapoo soda (tastes like Mello Yello), feeling like "the future's so bright I gotta wear shades" — until a heavy downpour came from the dark sky. And so the future wasn't all that it was cracked up to be — not a flying car in sight — but hey, I only went ahead one hour for crying out loud.
SAVE THE DATE; DAY 503 IS COMING. MARCH 5, 2005, NYC.
CLICK HERE TO VIEW THE TRAILER.
PLEASE R.S.V.P. WITH YOUR HEADCOUNT BY POSTING A COMMENT HERE.
Next entry: From All Over The World
Previous entry: On Tap
Commenting is not available in this channel entry.
Comments for "Back To The Future"
back to top of page