American Leftovers and Indian Flair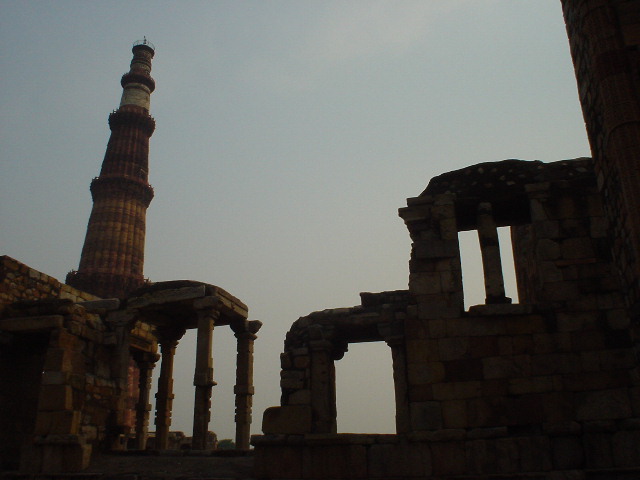 This blog entry about the events of Wednesday, October 27, 2004 was originally posted on October 29, 2004.


DAY 375: Since my arrival in India I had two leftover errands from Nepal that I wanted to take care of right away: finalize my insurance paperwork for reimbursement from the rescue from the Everest trail (total expenses came close to $5,000 USD!) and more importantly, try and get my absentee ballot for the 2004 US presidential election. I had tried numerous times in the Anoop Hotel's fax desk to electronically send the eleven sheets of documents to my insurance company, only to have them tell me that I also had to mail in the originals. I had spent even more money and time to fax in my absentee vote ballot application to either of two numbers in America that I had gotten from the US embassy in Kathmandu. I don't know which party was playing games on the other end, but the fax machine wouldn't pick up my call.
Both DHL and the American embassy were in different parts of town and with those and the sights I wanted to see that day, I felt it was in my best interest to hire a car and driver for the day at the hotel company's travel agency at a flat rate instead of having to argue and haggle and most likely still overpay for taking numerous motor rickshaw taxis all around. A car and driver was only $12 USD for the day and I got it around ten in the morning, just before the short hour and half window of the US embassy's American citizen services morning hours.
My chauffeur for the day was Vinot, a fine young Indian man — married, no children — who wore a button down shirt with flaps on the shoulders that made him look like a wannabe airline pilot. "You pay for air-conditioned car?" he asked.
"I don't know."
"How much did you pay?"
"600 [rupees]."
"Oh, I don't think so then, but I will put it on if you want."
"It's okay, the window is fine."
He turned it on anyway, I think more because he preferred it. "I know how Americans like it cold," he said. "Please don't tell my company or they will charge you two hundred or three hundred rupees."
He was confused on my status of "American;" with my master-of-disguise ways, he too thought I looked Indian, perhaps because of the tweaks I had made in my ambiguous look: contacts instead of glasses, which accentuated the sun-baked dark tone of my skin (I think the glasses also lean my ambiguous look towards Far Eastern); more hair in the moustache region; and, unlike the European tourists decked out in snazzy silk, linen or pashmina Indian threads, plain clothes just like every other Indian guy I'd seen on the street.
All the embassies in Delhi were all together in one section of town called Chanakyapuri, a section with super-tight security and nicely manicured lawns. Vinot dropped me off at the corner of the US embassy since no parking was allowed to pick me up in an hour. I walked in, tweaking my ambiguous look to make me more look more "American" (by toting around my shiny blue passport) and made it inside with no problem. Unlike the embassy in Kathmandu which had a stale DMV feel to it, this one was more like a university registrar's office in early September with crowds of people lined up for a visa. I was directed beyond the lines to the corner room for American citizen services and eventually got to speak to an officer behind a bulletproof glass.
"I got [form] this in the embassy in Kathmandu and I've been trying to fax it in but they won't pick up the call," I told him, sliding my filled out form under the window.
"Ah, New Jersey. [What] exit?" he asked in his southern accent. I smiled and answered "18W". (He actually asked "Which exit?" but I figured, what the hell, I'll plug my on-line store again while I can.)
"You were probably faxing it to that general 703 number," he told me. "I think that goes somewhere in the Pentagon."
"You mean I was trying to fax the Pentagon all this time?!"
"Yeah, maybe they'll track you down and arrest you," he joked. He warned me that it might be too late for me to vote already, but I showed him the instructions I had that said New Jersey gave me until 8 p.m. of Election Day to get my vote in. "You're one of the lucky ones." It was a rarity that a state allowed an overseas ballot come in that late, even by fax.
In assurance that my vote would not be missed, I got to vote on a write-in ballot which he would both fax and mail to the Bergen County Clerk's office. The process took about half an hour, much more time than pushing those new fancy electronic voting machines in Florida I'd seen on CNN International, but it was my duty and right as an American to do the deed. There were others there doing the same, from Yonkers, NY, Washington state and L.A., which was a good thing to see. In most of the countries I'd been to so far, a lot of people felt powerless that they can't vote for the American president, even though the victor inevitably affected them and their country. Many I'd met were annoyed that the leader of the only superpower in the world could only be decided by people in a country where less than 10% of the population had a passport and actually traveled outside the country.
Anyway, I felt pretty patriotic having voted as I left the building. I walked to the corner to meet Vinot and the car as Ray Charles' rendition of "American the Beautiful" was pumped out the speaker to the rest of the people outside on line waiting to get inside. Vinot drove me to the Connaught Place district, a more modern Western-business district of New Delhi, and I finished off my leftover American errands by going to Citibank headquarters to get some cash and then to DHL to mail my insurance documents to the USA to get my claim process up and running. I celebrated the end of my American errands and my American vote at the American embassy in a good ol' fashioned American way (with Indian flair of course).

INDIAN FLAIR TOOK OVER the rest of the day as I went to go see some more sights of Delhi. I had seen Old Delhi the day before and would see New Delhi this time. Vinot drove me to see the Secretariats of government ministries near the Rashtrapati Bhavan (the presidential estate), all of which made me feel like I was in Europe again — and no wonder, they were designed by architect Edwin Lutyens and built by the British when they moved their capital from Calcutta to Delhi in 1911.
Parking was also not allowed in the area so we high-tailed it out of there to the one big "must-see" in South Delhi, the Qutb Minar complex (picture above), the ruins of the site of the first Muslim kingdom in India of 1206, built by Qutb-ud-din Aibak. A World Heritage site designated by UNESCO, the Qutb Minar complex (picture above) attracts not only foreign tourists but local ones as well. "Qutb Minar" itself is a minar, or tower, erected for prayer in the Muslim faith. The tower was the main center point surrounded by the ruins of the complex, the remnants of holy shrines, mosques and tombs. The Quwwat-ul-Islam Masjid mosque just below the Qutb Minar remains as a big courtyard with an iron pillar known as the Gupta Pillar, erected for Lord Vishnu and in memory of the Gupta empire Chandragupta II. To the north was the Tomb of Qutb-ud-din Aibak's grandson Iltutmish, and nearby was the unfinished Ala'i Minar, slated to be twice as big as the other minar, which was left after only the base was completed; it now looks like a sort of volcano where birds fly out of, although at some vantage points it seems as if they're not birds but giant vampire bats.

"HOW FAR IS THE BAHA'I TEMPLE?" I asked Vinot back in the parking lot.
"It's far," he said. "Twenty kilometers."
"Do we have time to go there?"
"If you want we can go."
"Yeah, let's go."
"I want to show you a market," he said.
"Okay."
He told me he knew of a market on the way where we could go in and out for five minutes just to see what was there. When we got there, I immediately felt the scam coming. Oh c'mon Vinot; you're a good guy, not this, I thought. He drove me not to a big bustling market like he implied, but a secluded store. Inside there were carpets and wooden carving things in a big showroom, with persuasive salesmen and guys serving tea. I saw that two Asian guys had fallen into the trap and were getting a very very pushy sales pitch for carpets.
The scam to be driven to such a place was common according to my guidebook — drivers get on your good side and then drive you to their "friend's" place in order to force a sale on you, often giving the driver a commission. I had fallen for a similar scam in Egypt and was on guard not to buy anything this time. The salesman invited me for tea and to "just look" at the shawls "for your mother or girlfriend" and I was resilient in resisting both, never making eye contact once — which is key. I was in and out of there in four minutes and went back to the car outside. Vinot didn't look happy or sad either way.

THE BAHA'I TEMPLE, known by some as the Lotus Flower Temple, is one of seven unique buildings of the Baha'i faith throughout the world, erected for the Baha'i faith, one that encompasses all world religions and concentrates not on their differences but on their universal common bonds of the relationship of God and man and search for Truth.
The building in Delhi — the others are in Western Samoa, Sydney (Australia), Uganda, Panama, Frankfurt and Wilmette (USA) — which at some angles is reminiscent of the Sydney Opera House, is surrounded by nine pools, designed not for just aesthetic purposes but as a cooling system for inside the main hall. Inside I went to see what was going on and walked in on a short inspiring prayer service of words and song — I wasn't allowed back outside until it was over. (It was only five minutes.)

THE LAST PIECE OF "INDIAN FLAIR" for the day reminded me more of France: the India Gate, a triumphant arch erected in memory of all the soldiers of India that died in the many wars the country had been involved in over the decades. An eternal flame burned under its arch, guarded by soldiers of course. I walked around the gate, surrounded by a park with ice cream and cotton candy vendors, and it was a nice place to end the day as the sun set.

ON THE SECOND NIGHT OF MY RECUPERATION period in Kathmandu, I got some sort of an insect bite on my left shin as I was sleeping in the middle of the night. I assumed it was a mosquito and ignored it — but days later the swelling of the bite did not go down; it actually spread in area on my leg. I put some hydrocortisone on it.
The sting of the bite worsened, almost in a paralyzing sort of way. Still I could walk, but it stung every time I stretched the skin of my left leg. When I walked around Delhi the pain only got worse, in fact I felt it was spreading down to the rest of my left leg. So I went to the local clinic recommended by Let's Go off the Main Bazar in Delhi. It was a shabby little places that blended in with the other humble stores, but it was evident every attempt was made to keep it as sterile as possible
Dr. Gupta there looked at the lump on my leg and immediately diagnosed I got some sort of staphylococcal bacterial infection in the bite. It may have not been a mosquito bite after all, and at this point no one can know for sure what it was. (I'm hoping it was one of those genetically-altered radioactive super-spiders.)Before I told the doctor the history of the pain, he deduced that the pain was benign at first and then spread; which was right on the money. He told me the infection would only spread more unless we cut open my leg and drained the pus, cleaned it out and put me on antibiotics.
I elected surgery.
And so, in the little shabby clinic in the middle of the bazar (with safe and sterile instruments opened right from their sealed packages thankfully), Dr. Gupta and his assistant operated. I was injected with adrenaline as an anesthetic and then he cut a deep slit in my left shin with a scalpel. Using a retractor, he inserted a swab thing and cleaned out the inside.
"Tell me if it hurts," he said.
I believe the entire ten minutes I went something like this:
"Oh… Ugh… Yeah, that hurts. Oh, yeah, that hurts too. THAT hurts. Rrrrrr… And that hurts…. Oh yeah…" etc.
He assured me I did the right thing by catching it early and put me on some antibiotics to get rid of the infection. While this was good news, it also put me on the bedridden list once again.

AND SO, I WAS GROUNDED AGAIN, this time at least with a TV to keep my feet up as the doctor ordered. One particular show continued the theme of the day: Indian Idol, an American show with Indian flair, produced in the same manner as its American counterpart with a similar logo, theme song, similar judges and crowds of eager people off the street trying to make it to Bollywood.
Needless to say, it's not just America that can produce "the worst singer in the world."
Next entry: Worldwide Pants
Previous entry: Good Old Delhi
Commenting is not available in this channel entry.
Comments for "American Leftovers and Indian Flair"
back to top of page