A Fresh Young Boy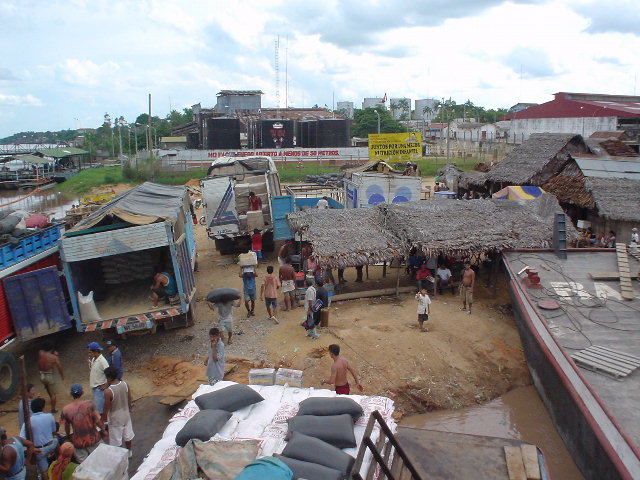 This blog entry about the events of Thursday, December 04, 2003 was originally posted on December 08, 2003.


DAY 47: The sun came up over Tarapoto and broke through the morning mist, revealing a pretty town surrounded by mountains. I got dressed and sorted out and went looking for a place for breakfast — there was one on the fourth floor with a view of the city, and it was included in my fee.
"Hello Meester," Ricardo said. He was forever addressing me as "meester" since the night before, which translates to señor, which also translates back into "sir." Ricardo made me an egg sandwich — "the American breakfast" — juice, coffee and sat with me to practice his English. He was yet another person that couldn't believe I was 29 — I look 20 tops. I asked him about the journey to Yurimaguas and to Iquitos and he told me what to do. He was a good guy — good enough for two girlfriends he told me.
"Goodbye Meester," he said as he put me in a mototaxi. He told the driver to take me to the autoport for the normal price of 1 1/2 soles — making me realized I'd been ripped off the night before when I paid five.

AS SOON AS WE ENTERED THE DIRT ROAD on the edge of town where all the car and truck service companies were located, the mototaxi was attacked by about ten different guys trying to get me to go with their car — some even jumped in the rickshaw and tried to take my bag with them to their trunk. The driver asked me what to do and I just chose the company closest to me; I really had no choice because the guy there had already taken my bag and put it in the trunk.
The driver of the car — a different guy from the guy who took my bag — was a nicer guy. His name was Carlos and he kept the radio on for me while we waited for other passengers. I thought it was funny how Phil Collins came on singing, "You can't hurry, love…you'll just have to wait…"
And wait I did. Cars don't leave unless they are full and there were three empty spaces to be filled. It took an entire hour for the next passenger, a portly woman, got on.
Luckily, it only took half an hour after that when a man and wife got in the backseat with me. It took about four guys to jump on the trunk to jam it shut with all of our cargo and baggage.
Carlos drove the four of us on an unpaved road which Lonely Planet describes as "definitely off the gringo trail." The dirt road went through twists and turns, over rocks and bumps, and sometimes through small streams. The woman up front was on lookout for snakes. It was the perfect road to film a commercial to sell SUVs to Americans who'd only use them on asphalt highways — we did it in an old beat-up Totoya Corona. Carlos was a master at the wheel, honking ahead at blind spots and keeping the car from spinning out off the cliff. The road led to a series of small tropical villages, some of which had mandatory police checkpoints and trunk searches. We never had any problems as none of us looked suspicious — I blended in like an Amazonian Peruvian boy. (A lot of the villagers out the window had more Asian-looking eyes like I did.)

YURIMAGUAS WAS JUST AS RICARDO EXPLAINED — a small town with nothing to do. It was more or less just a port town, so I had Carlos take me straight to the boats. The woman in front said that she was also getting a boat, but it wouldn't leave until the next morning.
I checked out one boat that someone had led me to with a sign that said it was leaving "[For Iquitos Today at 5 p.m. Without Mistake.]" I checked out the cargo boat — which could also hold 300 passengers — and it was decent. It was better than the boat next door that was full of chickens anyway. I had the option of staying in a hammock in the big room in "economy" on the second floor where there were no lights; staying in a hammock in the big room in "first class" or getting a small "first class" cabin. Seeing that I didn't have a hammock (they weren't included and one cost 20 soles), I took the cabin, which included meals. I bought a ticket from the manager who was surprised that a Peruvian boy like me could afford the 100 soles (about $28) for the 2 1/2 day journey in "first class."
I put "first class" in quotes because it wasn't "first class" in the Titanic sort of way where you could, in the event of an imminent death, ask for a brandy. "First class" only meant you had a place to lock your things instead of being out in the open, you had access to the room on the third floor which had a TV, and you could shower. And if you think I was all uppity for taking "first class," take a look at the toilet. (No, this isn't another diarrhea picture, this is what it looked like after a flush of muddy river water. Notice the lack of a seat as well. Ladies, I feel your pain.)
The biggest plus to taking "first class" was that you had food prepared for you and served on a table. I met the chef on deck as we were waiting to leave port. His name was Jun, and he an effeminate-looking guy with two earrings and very gay vibe about him — not that there's anything wrong with it. However, in our introductory handshake, he held my hand daintily and wasted no time in telling me that I was "bonito."
I waited and waited all afternoon as people loaded the ship with goods (picture above), trying to beat the 5 p.m. deadline. A truck full of oranges poured out fruit into sacks at a time as guys came back and forth to load them on the ship. "Peki Peki" boats — long wooden boats with little motors — came back and forth with passengers from local villages.
A shady man came aboard selling hammocks and flashed a shady-looking tour guide badge that an eight-year-old with an iMac and a printer could have made. He tried to sell me on a tour of the National Park Reserve en route to Iquitos. Apparently two Japanese tourists he took the week before loved it, which prompted me to believe he thought I was Japanese as well. He told me about the snakes and birds and dolphins we'd see, but I told him I wasn't interested and was just going to Iquitos to "meet a friend."
"[The boat doesn't leave until tomorrow,]" Shady Tour Man said. "[Come drinking with me and I'll get you a woman for sex.]" Perhaps he thought that, being Japanese, I couldn't read the Spanish sign that said we were leaving at five.
"[No thank you,]" I said. Shady Tour Man left the boat after that.

FIVE O'CLOCK CAME and nothing changed. Loading still continued. A passenger complained, "[It's already passed five, perhaps we won't leave until the morning.]"
As the sun set, I stood and watched the cargo men load the ship in anxiety; I was really reaching my threshold for just waiting around. You may have spent hours in an airport and know the same feeling. The difference is that most airports are air-conditioned and this boat was as humid Andre Agassi's armpits after a day at Wimbeldon.
"[Oh, are you sad?]" Jun the Ambiguously Gay Chef said as he approached me. Coming from New York City, I was no stranger to gay come-ons and recognized this guy's intent immediately — not that there's anything wrong with it. But a gay man stuck on a ship of heteroes suddenly had a fresh young boy (from New York City of all places) to pursue. And I thought avoiding the spiders sliding down webs from the ceiling was enough.
"[Would you like a drink?]"
"[No, I'm not thirsty.]"
He went away to his kitchen duty.

THE SUN WENT DOWN and we still hadn't left port. There were a couple of times the boat moved a bit, but it was just to position the boat for fuel or make room for another ship full of livestock. Whenever the boat would move positions I always got my hopes up, but I'd see them hammer a new stake into the ground to tie the boat to. "No, no no…don't do that!" I said in my head. "Let's just GO already." No one was loading anymore, we had gas and there was no reason to stay.
My "first class" money paid off because in the waiting period, I watched a Spanish-dubbed Air Force One with the crew and two guys from "economy" who had snuck up to the TV room. I noticed them before taking pictures near the one dining table, probably to show off to their friends. During a commercial break, there was a commercial for the M/F Eduardo IV, the ship we were on, and it made it look all glamorous and fun — they never showed footage of the toilet.

IT WAS EIGHT O'CLOCK and still no motion. I looked into the darkness of the river downstream on the back of the ship, where I ran into Jun the Ambiguously Gay Chef's cabin, secluded from the other crew cabins. He asked me something in Spanish with the words comida (food) and bajo (under/lower) and I assumed he was asking if I wanted my included food since the kitchen was on the lower level.
"Si."
Jun got really excited. Soon I realized he was asking for something that involved food and his lower bunk. He said he'd get me something if I waited alone in his bed.
"Nononononono….no quiero," I said. I got out of there fast, still hungry.
Great, I thought, the only way I would probably get food on the ship was to risk a potential ass raping. I mean, I'm all for new experiences, but ass rape isn't exactly on my To Do List. In fact, on My Top Ten List of Things I Don't Want, "Ass Rape" is listed about six times. Luckily I had bought provisions in Chiclayo and wouldn't go hungry. Tuna on a Ritz and cereal bars would have to do.

TO MY SURPRISE, I was the only one in "first class," making me, Jun and some crew the only people on the third floor. The crew went about their businesses, leaving me alone with Jun and his shady ways, which prompted me to just go in my room and lock the door.
I lay in bed and hoped we would embark sometime in the night. Suddenly, that chicken boat didn't look too bad.
Next entry: A New Shipmate
Previous entry: Eastward Ho!
Commenting is not available in this channel entry.
Comments for "A Fresh Young Boy"
back to top of page